Requires: Fishing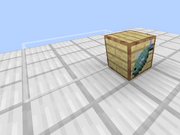 The Fish Farm allows for the catching of all vanilla fish and ink. The performance of the Fish Farm is dictated by the amount of water in its bounds, as more water means more production.
You may enable or disable catching fish or ink through the "Other" GUI.
Default size is 5x5, but can be upgraded using a Medium Bounds Upgrade or a Large Bounds Upgrade.
Automation
[
]
They can also be automated by Windmills, Water Wheels, Hand Cranks, Sterling Generator and other power devices.
Crafting
[
]